Artist-in-Residence (AIR) program development in Japan 
copyright reserved
Introduction
Artist-in-Residence (AIR) is a program which aims to support the creative activities of overseas artists by providing opportunities for them to stay and work outside their countries or regions for a certain period of time while providing opportunities of exchange activities in the host community/residence. There are thousands of AIR organizations around the world. With a longer history, the development of AIR in Europe and North America (since the 17th century) were more mature than that in Asian countries such as Japan (since early 90's). The primary objective of this article is to discuss the ways in which AIR programs have developed in Japan from the perspectives of sustainability and business model. To begin with, I would like to illustrate my points with an AIR institute – 3331 Arts Chiyoda[1], Tokyo where I am staying currently for my solo exhibition and making art for 3 months until the end of October, 2016.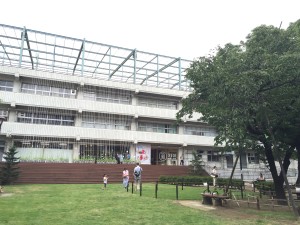 The development of AIR in Japan
With growing interest in AIR programs in Japan in the early 1990s, an increasing number of local/regional governments and art-related NPOs have been working on AIR programs. Up to now, there are at least 64 AIR organizations/establishments in Japan[2]. An obvious consequence of regional governments becoming organizers of AIR programs is that their objectives are broadened to include not only giving support to artists, but also promoting and revitalizing those regions. Hence, they put a lot of effort in re-designing urban space with focus on re-purposing abandoned/closed schools, sport centers, theatres or farms etc. However, most AIR programs are not fully funded; they need to generate income for self-sufficiency in finance. For example, in 3331 Arts Chiyoda[3] which is based in a repurposed school, the former classrooms house 4 floors of exhibition space, independent galleries, creative workshops, offices and more facilities with an organic rooftop garden, a cafe, a gymnasium, selected shops and ample community space for more activities including short-term business conventions, symposiums, community functions, charities events and etc., to generate income by increasing pedestrian flow. Applying this business model, there are more resources to manage AIR programs in terms of bringing artists in, organizing art events for exchanges, as well as introducing artists and their work to the public under the same organization as a whole. For exchanges, some of these AIR programs require artists to open their studios to the public or to hold workshops for local citizens during their period of residence, although sometimes there is a fundamental language barrier when artists talk with local people in English.
The value of AIR in view of sustainability
The values of AIR have been defined in several aspects (such as creative production on site-specific base and cultural exchanges); I attempt to identify the specific values they have as a new entity in the art field, in particular, with regards to their contributions to contemporary art. First of all, it is considered a primary value for the society to maintain the old premises of historic buildings while revitalizing the regional economy and the city itself (e.g. Kyoto and various cities surrounding Seto Inland Sea). Without a doubt, they are good examples of sustainability which are mainly run on a self-sufficient basis rather than by government funding or charity sponsorship.
The value of AIR in view of education
Similar to the model of artist-run academies, AIR programs do not emphasize on formal education. However, the residence can provide a mutual learning environment for collective and personal development that are complementary to the existing art institutes available for artists (especially for young artists/fresh graduates from art schools). In parallel, it could also serve as a good learning channel/platform for local residents and students especially in design and art related fields. Different from museums or art galleries, it could be more user-friendly for general art lovers and students to get involved in residential productions, in the form of performing or visual arts. Through these "forums of affinity", i.e. open studios or in-house exhibitions, what makes residence unique is the possibility of bringing together a group of talented people in a place imbued with a sense of history or culture.
How AIR programs benefits artists
Through participating in AIR programs, artists can expand their network by interacting with other artists (both local and overseas) or researchers. In addition to acquiring career-enhancing opportunities as well as improving their personal portfolio, they may thus gain positive experience in both tangible and intangible ways. They can even broaden their horizon by learning the culture of the host country. Of course, there will be fewer chances for artists to sell their work during the AIR period as their connection with commercial art galleries will be weakened comparatively. However, this potential loss can be covered by the long-term benefits they could enjoy.
Conclusion
Apart from regional governments, there are also art museums, universities and non-profit organizations conducting AIR programs. Generally aimed at mutual exchange on a specialist level for educational purpose, the receiving institution expects some kind of positive stimulus from the presence of world-class artists. For example, Tokyo Wonder Site (TWS)[4] manages to invite artists/researchers/creators of the highest caliber. In the future, it is desirable that a greater variety of entities (such as a merge of Japanese guest houses with commercial galleries or art schools) would take on the management of AIR programs. And the target group could be expanded to any creative workers (such as designers/writers/architects/film workers, etc.). Also, it is likely that the need to share know-how and information with overseas AIR programs will grow as the database of some worldwide AIR websites are very organized, comprehensive and useful nowadays, with a highly efficient centralized searching engine[5]. Last but not least, artists in residence who are interested in the host country's culture and lifestyle would love to share their experience by word of mouth in their home country. Over the time, a sense of affinity would develop between the host and home countries. My fruitful experience of making friends with 6 artists from various countries and art fields during my residential stay in Japan is a good example.
 [1] Reference: http://residence.3331.jp/en/artists/003420.html
[2] Reference on: http://en.air-j.info/search/
[3] Reference on: http://residence.3331.jp/en/
[4] Reference: TWS: http://www.tokyo-ws.org
[5] Reference: http://www.transartists.org/
Case Study Two
Artist-in-Residence (AIR) program development in Hong Kong
Introduction
In this article, I attempt to discuss the development of AIR programs in HK in comparison with that in Japan. To my surprise, when I searched for AIR in HK on the internet, there is almost none of such information nor any news. There are only a few relevant documentaries by either NPO/NGO or art institutes such as Artist Home Base (AHB, Wing Lee Street) operated by the HK Art Center, Asia Art Archive (AAA) and Para Site, and the Spring Workshop which is funded by sponsorship. In addition, there is another AIR space named Cattle Depot which is likely to be a permanent residence for a small group of artists. In general, these apparent "AIR programs" is rather exclusive in the sense that their entrance requirement is non-transparent, even "by-invitation only". Since there is not sufficient data for critique, I would raise the issues of AIR development in HK rather than conclude it as a failure case.
Issues of existing AIR-related programs
My observation is that existing AIR-related programs or so-called non-commercial art activities/exhibitions in HK are positioned in ivory towers. Selection of artists is often based on how well they please donors and sponsors instead of their academic or conceptual styles. It is understandable as they need to meet the expectations of high-end audience in order to secure funding or sponsorship. However, artistically mature audience in today's HK is very minimal. At the end of the day, art has to return to today's Arts. A everyday life here where laymen are the norm. Artfully revamped space should serve the purpose of community resources which are accessible and comprehensible for the mainstream in the society, instead of catering for a niche group. If we manage to unformat our views, and to unlabel the arts, the resident community will become the main stakeholder of the cultural exchange and learning system[6]. More visitors will come, as a lively community is more appealing than beautiful but boring museums. Moreover, exchange activities provide local residents with the chance of getting to know the artists, exchanging ideas and thoughts, and even participating in the creation process. In this way, a brand new world is introduced to people who would normally have little contact with art. Normally speaking, the two-way nature of activities which can take place more readily in an AIR space can let visitors enjoy a sense of affinity and genuine pleasure that is unattainable in art museums and galleries, where only a one-way channel of appreciation is allowed. Dependent on the context, it is not always the case though. Take the Jockey Club Creative Arts Center (JCCAC) as an example. The artist studios are supposed to be open to the public for "2-way dialog" between artists and visitors. Unfortunately, many artists would prefer not to honour this obligation and occasionally even make their dissatisfaction with fish-bowl activities known because they feel they are lessee of the studio[7].
What can Hong Kong learn from Japan?
There is no basic model for developing AIR programs. We might however learn something from the business model in Japan, where AIR programs in any location can be self-sufficient in finance provided that the space is provided by the government. Each program or artist studio, large or small, established or experimental, has its own background, facilities and atmosphere. Working periods differ enormously: from weeks to months or sometimes even a year (but never similar to the case of Cattle Depot).[8] Some could be specialized in one discipline – either visual or performing arts; others are open to a great number of disciplines such as music, architecture, literature etc. There are also a lot of differences in housing and studio facilities, application and selection procedures, coaching, exhibiting and networking. Financial conditions are highly dependent on the availability and flexibility of space in relation to profits generated by sources of income such as venue rental for external events, artistic training, galleries, gift shops or cafés etc.
What is the most important is to allow open-call for all talents from around the world. Exchange activities with local residents or arts and design students should become an important part of the program content. The next question is how they can make it available for knowledge sharing and cultural exchange. Artists should make their activities accessible and relatable to the public via open studios, talk shows, or workshops but not necessarily in a high-level or sophisticated fashion. It is recommended to invite arts or design schools or non-profit making organizations to operate AIR programs with focus on community education. AIR programs should be designed to be desirable to artists, under-graduates and graduates from overseas art colleges who want to enhance their academic or career profile. The ideal mode would be establishing a kind of informal art school environment where artists provide talks and presentations about their art making practices, sharing their know-how, concepts or theories, to make it a great learning opportunity for local students and young artists.
An opportunity of developing AIR programs in HK
According to the Annual Report by Audit Commission (a HK government department) in 2015, there are 234 abandoned schools (including primary and secondary) in HK. Of which, 45% i.e. 105 schools haven't been used since they were closed, and some were even isolated for 35 years!!! 75 schools are no longer suitable for educational purpose due to the premise condition. However, among these 105 schools, 79 of them have been renovated at an average cost of HKD19 million per unit but none of them have been re-used thereafter. All of these schools has been returned to the government now. In fact, many non-government, educational or art-related organizations have applied to use these schools for community, charity or art activities, but almost all of them have been either rejected or pended. This problem reflects that we are lacking a clear direction, policy and planning to repurpose and utilize such kind of public space and premises in the long run by a single government department.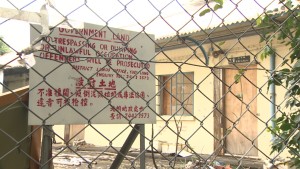 (The above photo is an abandoned school in Tai Po, photo by HKRTV)
While questioning why AIR is not popular in HK, I begin to wonder if those abandoned schools can become potential space for developing AIR programs. Of course, in general, these schools are valuable assets of HK. There should be many possibilities of repurposing them for education, charity, community or whatever purposes. AIR could be a good alternative to utilize these schools rather than isolating them from the society.

Conclusion:
As a sustainable source of educational value and cultural exchange, developing AIR programs in abandoned schools would definitely be a good initiative for our society. It will exert a unique impact upon the community and economy. Although it might generate less income flow and employment opportunities than that by commercial centers, its advantages include strengthening territorial identity, residents' sense of belonging, appropriate outcomes for human capital, socialization, reciprocal listening and tolerance, and social inclusion. This is the unfungible value of arts and culture. Not only can a mature society appreciate such value but it also contributes to bringing it out, or even enhancing it. 3331 Art Chiyoda is a fine example of utilizing public space and community resources for artistic and commercial purpose. In Japan where the presence of arts and culture is simply the norm, AIR programs would prove perfectly consistent with the economic and social paradigm of the future. Why not in Hong Kong?
To that end, it comes to deeper questions such as: Who should be responsible for the resolution? Who can take lead to drive AIR development in HK? Who can make changes to the cultural policy? It is true that a common excuse for stagnation is that there is no such thing as a centralized cultural bureau in HK. The Art Development Council can only employ government funding and manage resources for routine art activities in a passive way. So, how can AIR programs be developed in HK? I have no answer, but I hope there will be more rooms for discussion on this matter in the future.
[6] More successful cases can be found in Taiwan and Japan in particular in those rural and remote island areas.
[7] The rental scheme of JCCAC is also a problematic issue as the rent is under-rated and thus almost all artist studios are used for either making art as a hobby or as classrooms for chargeable training courses. It serves no purpose of AIR, but just another leasing and showcase venue sponsored by Jockey Club. Artists are almost reluctant to entertain walk-in visitors.
[8] There is a non-transparent policy and rental scheme being executed in Cattle Depot where some artists can occupy the residence for many years while others are seeking opportunities to enter/rent a room by fair treat, to no avail. The root cause seems to be a historical issue when the government relocated those artists from their former residence in Oil Street, North Point.