Abstract
Metamodernism was first introduced in 2010 by cultural theorists Timotheus Vermeulen and Robin van den Akker as a way to understand the current condition of human philosophy that has befallen us in the wake of the decline of postmodernism.[i] Alan Kirby says postmodernism is dead and buried. Many theorist and critics said postmodern is over because new generations of artists increasingly abandon the aesthetic precepts of deconstruction and make art in dynamic ways. It seems that metamodernism can be useful to describe a kind of culture we are seeing today – neo-romantic, nostalgic, and forward-looking. However, it would be an open-end discussion and debate. It is difficult to solidify the definition/theory of metamodernism with consensus by various philosophers and critics in particular the consideration of the emerging art scene and marketing in China, South Korea and Japan while they are making uncountable contemporary art work for export markets.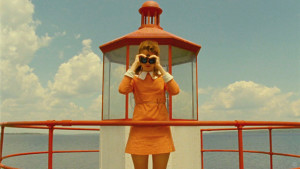 Image: Still from Moonrise Kingdom, Wes Anderson (2012)
Why Tim and Robin began to do their research and started to use this term-Metamodernism? According to Robin, since 2008, after the financial crisis, he thought that one, the terminology of postmodernism was not entirely correct and two, maybe it could invert the whole process of doing research, instead of us saying, 'this is how the world looks like'. However, on June 3, 2015, they written an follow-up essay: Misunderstandings and clarifications[ii] because they thought that over the past few years there have been some misinterpretations about what we may have intended in those first notes on metamodernism and they had couples of debates with other critics about the theorized the metamodern in their new essay.
I would take one step back to understand more about the Postmodernism, Alan Kirby said postmodernism is dead and buried.[iii] However, some critics had debated that they don't believe postmodernism is dead, just like post-industrialism isn't dead. They are synonymous. They both evoke a past era.
In considering the communication ways of art and culture that have been changing continually, art theories have been reformed all over and over in the past generations to respond the circumstances and conditions of the arts making and practices that have been redeveloped and transformed in their revolution, rather than the impact of communication.
In current contemporary art scene[iv], I observed that the art productions in particular the conceptual installation work adopt widely in new / digital media. This implied that new media art often involves interaction between artist and observer or between observers and the artwork, which responds to them. Yet, as several theorists and curators have noted, such forms of interaction, social exchange, participation, and transformation do not distinguish new media art but rather serve as a common ground that has parallels in other strands of contemporary art practice.[v]
With reference to the Tim and Robin's article: "Notes of Metamodernism", I would outline the following key notes:
Many theorist and critics said postmodern is over because new generations of artists increasingly abandon the aesthetic precepts of deconstruction and make art in dynamic ways, such as mixed medias or new media work with performative acts, video/photo recording or paints with sculptural forms presentation or else resulting more artwork of integration with different art forms and categories and more confusion to audiences. These trends and tendencies can no longer be explained in terms of the postmodern.
Metamodernists brought different thoughts/ways of art making/practices by adopting ideas of "as if" and "in-between", such as truth and untruth, sense and senselessness of existence, construction and dis-construction, wholeness and fragmentation etc… , It makes structure of feeling in both art making and viewing more confused, pluralistic and ambiguous! It is called art for art sake with fictitious sects and everyday life.
Some philosophers and critics have attempted to define a new term to replace postmodern such as hypermodern, digimodernism, automodernism, post-post modernism, altermodernism and so… it is however an open-end discussion and invitation to critics to discuss/argue with. And critics are facing difficult to categorize those new media arts which combined concepts, performative acts, and new media by artists. Of course, they might no longer to be defined as fine art to a certain extent, at least from my stand point, and often I would view them as fake art packaged by confused art statement/theory.
Artists nowadays create and present their arts from around the world that we might not be able to know where they come from (nationality) and what culture and religions they represent.
Some architectures and artists such as Herzog & de Meuron, the installations of Bas Jan Ader.…. we have seen a shift away from the insubstantial conceptual one-liners of the YBAs, or Jeff Koons's vacuously overinflated ironic baubles, towards a reengagement with materiality, affect and the sublime, found in the work of artists like Olafur Eliasson, Peter Doig, and Guido van der Werve.[vi]
My question is what we see in the trends and tendency of metamodernism applying in the dominant paradigm of the internet age and globalization in today's art world?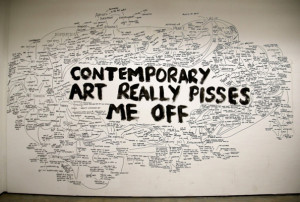 Image: Celia Green: contemporary art really pisses me off (2016)
In conclusion, the term of metamodernism can be interpreted in different meaning across the culture in art, fashion, architecture, films and so on in various countries by different cultural influence and languages.[vii]
But we can pretend to step outside of language and pretend to be making observations and inferences from there — of course in words — whether about language or about something before or without language. For example of art production in China, uncountable emerging artists just keep making a huge number of pop-art/fake art to "export" to Europe and USA. They use various enigmatic art languages to packaging their art work presentation and marketing.
Critics' debates make more confusions to the term or definition of metamodern as we are creating these words (in Chinese/or any language) and society reflects on that and suddenly tries to take these words and use and spread them. "People can create a concept and a new meaning and put it on the market, and this relates to the process, of what you talked about before, of dialectics, and what comes after metamodernism." said Prof. Peter Ruge.
Foot Notes and Reference:
[i] On Shia LaBeouf's Metamodern Performance Art, Abigail Ann Schwarz experiences #IAMSORRY and the surrounding media coverage, April 8, 2014, http://www.metamodernism.com/2014/04/08/on-shia-labeoufs-metamodern-performance-art/
[ii] http://www.metamodernism.com/2015/06/03/misunderstandings-and-clarifications/
[iii] Is Postmodernism "dead and buried"? https://speloona.wordpress.com/2011/05/03/the-end-of-postmodernism/
[iv] Contemporary art is art produced at the present period in time. Contemporary art includes, and develops from, postmodern art, which is itself a successor to modern art, https://en.wikipedia.org/wiki/Contemporary_art
[v] Contemporary Art and New Media: Toward a Hybrid Discourse?. https://en.wikipedia.org/wiki/New_media_art#cite_note-3
[vi] Metamodernism: A Brief Introduction, by Luke Turner, 10, January 2015, http://www.berfrois.com/2015/01/everything-always-wanted-know-metamodernism/
[vii] Conference on After Postmodernism, University of Chicago, http://www.focusing.org/apm.htm
[vii] 1st Annual Panel (What comes after metamodernism?) ESMOD BERIN file:///C:/Users/User/Downloads/annualpanelmetamodernismbooklet-141020085557-conversion-gate01.pdf
Bibliographic
Additional books and essays reading
Supplanting the postmodern : an anthology of writings on the arts and culture of the early 21st century (essay) byDavid Rudrum 1974
The Problem of Critique: Triangulating Habermas, Derrida, and Gadamer Within Metamodernism, (essay) by Stephen M Feldman, Is Part Of:Contemporary Political Theory, 2005, Vol.4(3), p.296 [Peer Reviewed Journal]
Metamodernism: narratives of continuity and revolution.(Essay)
Modernism — Criticism And Interpretationby James, David ; Seshagiri, Urmila,
Fiction — Criticism An Interpretation ; Literary Criticism — Practice ; Novels — Criticism And Interpretation, Is Part Of:PMLA, Jan, 2014, Vol.129(1), p.87-100 [Peer Reviewed Journal]
Postmodernism, or, The Cultural Logic of Late Capitalism (Post-Contemporary Interventions) by Fredric Jameson, Duke University press, January 6, 1992
From Modernism to Postmodernism: An Anthology Expanded by Lawrence, E. Cahoone, Blackwell Publishing
Post-Postmodernism: or, The Cultural Logic of Just-in-Time Capitalism by Jeffrey Nealon, August 1, 2012, Stanford University Press